Summary:
(Reports, footage, and photos by East Aleppo's activists for 14th of December are posted at the end of this blogpost).
(Reports, footage, and photos by East Aleppo's activists for 16th of December are posted at the end of this blogpost).
Since 12th of December, activists and civilians in besieged East Aleppo have been sharing their final messages to the world as death looms in by Assad forces and supporting Iranian and Iraqi militias on ground and the nonstop Russian and Assad aerial bombardment targeting civilian gatherings in the rest of the besieged districts still under rebel control. 
East Aleppo, which is a strong rebel hold, has been under attack by Assad and Russian forces since the Russians have extensively intervened militarily in November 2015. Hundreds of civilians were killed in East Aleppo's districts and thousands others have been wounded. Russian and Assad airstrikes have not only targeted besieged East Aleppo, but also heavily populated Idlib city and its suburbs, specially Maaret Numan and Binnish, Western Aleppo suburbs, and Homs suburbs, leading to more civilian casualties and extensive destruction. 
Within the past week, more than two third of East Aleppo fell into the hands of Assad regime as rebels could not fight longer mainly due to the overpowering Assad army forces accompanied by supporting Iranian militias on ground and Russian and Syrian airstrikes. All hospitals have either been partially or completely destroyed by Russian aerial bombardment, leading to a dearth in medical care for severely wounded civilians at risk of death with every ticking minute. Currently, up to 50 thousand civilians, many young men, women, children, and wounded, are left inside nearly 4 districts, surrounded from all sides by Assad militias, and unable to leave under intense bombardment and dreadful fears of retribution if caught by the regime's forces in West Aleppo.
Internally displaced civilians within the last 4 districts under rebel control in East Aleppo. 13 December, 2016 (Source: Aleppo Media Center)
East Aleppo male civilians who actually made it with their families to West Aleppo in the past week have either been forcibly disappeared or forced into military service with Assad army. Photos were released of families waiting to see their male relatives for the last time before they are thrown by Assad army to battles' front lines. Also, many families still inside East Aleppo reportedly lost all contact of the whereabouts of their friends and families who fled to West Aleppo. Therefore, de facto, Assad regime considers East Aleppoans dead anyways, whether detained and tortured or forced into military service just to be killed. Activists and civilians have been live streaming the news from East Aleppo everyday, with footage, tweets, Facebook posts, and interviews, putting their lives at major risk of detainment, torture, and execution if they leave to West Aleppo since their real identities are known to the regime. 
Several massacres, including Jub Al Qubbeh massacre – where more than 40 civilians were killed –  amongst others, occurred as civilians gathered to flee to West Aleppo get targeted by Assad and Russian airstrikes and tank shelling, killing tens of them and injuring many others. Activists also reported that almost any moving vehicle in East Aleppo's districts is instantly targeted by airstrikes. No true humanitarian routes have been truly secured for civilians; they were rather "death routes" since Russia used them as means to further exterminate civilians inside. In past 2 days, Syrian Civil Defense has not been able to report a death toll within East Aleppo's districts as reportedly tens of its civilians are trapped underneath the rubble of their houses and no one has been able to reach them due to the intense, indiscriminate bombardment and the lack of tools accompanied by constant internal displacement just to survive.
Massacre in Jub Al Qubbeh, where up to 40 civilians were killed by Assad/Russian airstrikes as they gathered to flee to regime-controlled West Aleppo.(30 November, 2016) (Source: Aleppo Media Center)
In districts that the regime and supporting militias were able to enter, activists in East Aleppo reported horrific executions carried out against civilians there. No footage or videos have been released from these areas and anything that is being released as executions by Assad army are old videos.
---
December 14, 2016:
According to activists inside, yesterday night, December 13, 2016, after UNSC meeting, 70 wounded civilians were supposed to evacuate from East Aleppo to the western Aleppo suburbs. But the evacuation was then postponed to 6 A.M today and again postponed to 9:00 A.M.
Today morning, no evacuation happened because the Iranian militias broke the ceasefire by tank shelling East Aleppo districts. 2 reasons were reported:
1- Iran did not know of and was not part of the deal struck between rebels and civilians on a side and Russia/Assad on the other side with help of Turkey.
2- Iran demanded that a number of wounded civilians in pro-regime Kufreya and Fawaa villages evacuate too.
Reuters then quoted Syrian Assad army official stating that "no deals will be struck without the consent of both Iran and Russia". Assad forces resumed their bombarding and Russian airstrikes first resumed on Ansar district in besieged East Aleppo and reportedly until now more than 15 airstrikes targeted the besieged areas. Since nearly 10:00 a.m., the airstrikes and bombardment did not stop. Rebels then launched rockets towards the regime areas in retaliation to Assad forces launching airstrikes and tank shelling against civilians; according to Syrian State TV, 7 people were killed in regime-controlled West Aleppo due to the rebel bombardment. Yet, the regime is attempting to accuse the rebels of ending the ceasefire when in fact the Assad regime is not capable of holding the ceasefire whilst Iran and Russia have the greater power. If the ceasefire is not monitored internationally or by local United Nations observers, the negotiations will certainly fail and the ceasefire will probably never be achieved.
Activists report civilian casualties due to the savage bombardment and an inability to salvage them.
ِAll these events are a blatant message to Assad supporters: your government is not able to hold a ceasefire nor strike any deal or have any legitimacy in its own country as occupational Iranian militias are trespassing your own government. This is extremely shameful as no free, sane, intellectual, educated population in this whole world will agree to such trespassing and disorder against a government you claim brings you peace and security.
For those who were reporting since last night that buses filled with wounded civilians were on their way to Idlib, it is false and wrong. Not one civilian left East Aleppo up until now. Any rumors truly harm the people inside. Please follow the activists and reporters inside and civilians live streaming every few minutes reporting the situation. They know better than anyone else.
Keep raising your voice for the people of East Aleppo and the whole of Syria. Idlib is being packed with civilians from across Syria and in the past 2 months Daraya, Muadmeyet Al Sham, Al Tal, and Palestinian Khan Al Sheh camp all in Damascus's suburbs were forced to evacuate to the north of Syria and surrender to Assad regime and its allies after months of siege, famine, lack of medical aid, and intense bombardment. The fact that we are calling the world to evacuate East Aleppo civilians from their own housesو districts, schools, shops, and memories is horrendous, but this is the only mean to save them after world countries have shamefully failed them.
Activists reports December 14, 2016:
Doctor Salem Abulnaser currently besieged in East Aleppo wrote these words (translated from Arabic to English below). He also posted his video and appeal from East Aleppo today as shells were falling near his house.
Heavy artillery fire since four hours and so far in addition to several air raids by warplanes also against the besieged neighborhoods of Aleppo city,
I advocate and appeal you as a human to rescue "who survived from us" now
There's no time for whatever negotiations, we – as civilians – just need to impose a ceasefire immediately now and then to discuss or negotiate on which way and how to evacuate us we the thousands of trapped civilians in the city of Aleppo,
time is from blood, and death
time is from blood, and death
-Lina Al Shamy's footage in East Aleppo reporting today's airstrikes and bombardment targeting her and all civilians trapped inside as evacuation and ceasefire failed. Lina also wrote on her twitter:
Assad regime & Iran didn't make any considerations to the international agreement in Aleppo !And breached the ceasefire!

No one yet could leave from the besieged city as it should have been done in the agreement.
Regime & Iran came back to revenge from civilians
-Zouhir Al Shimali, who is in besieged East Aleppo, shares footage today of the cluster bombs hammering the districts with civilians having no where to go and another footage of his reporting the situation after the ceasefire failed. He also shares this photo of remnants of phosphoric bombs dropped by Assad/Russian warplanes on East Aleppo.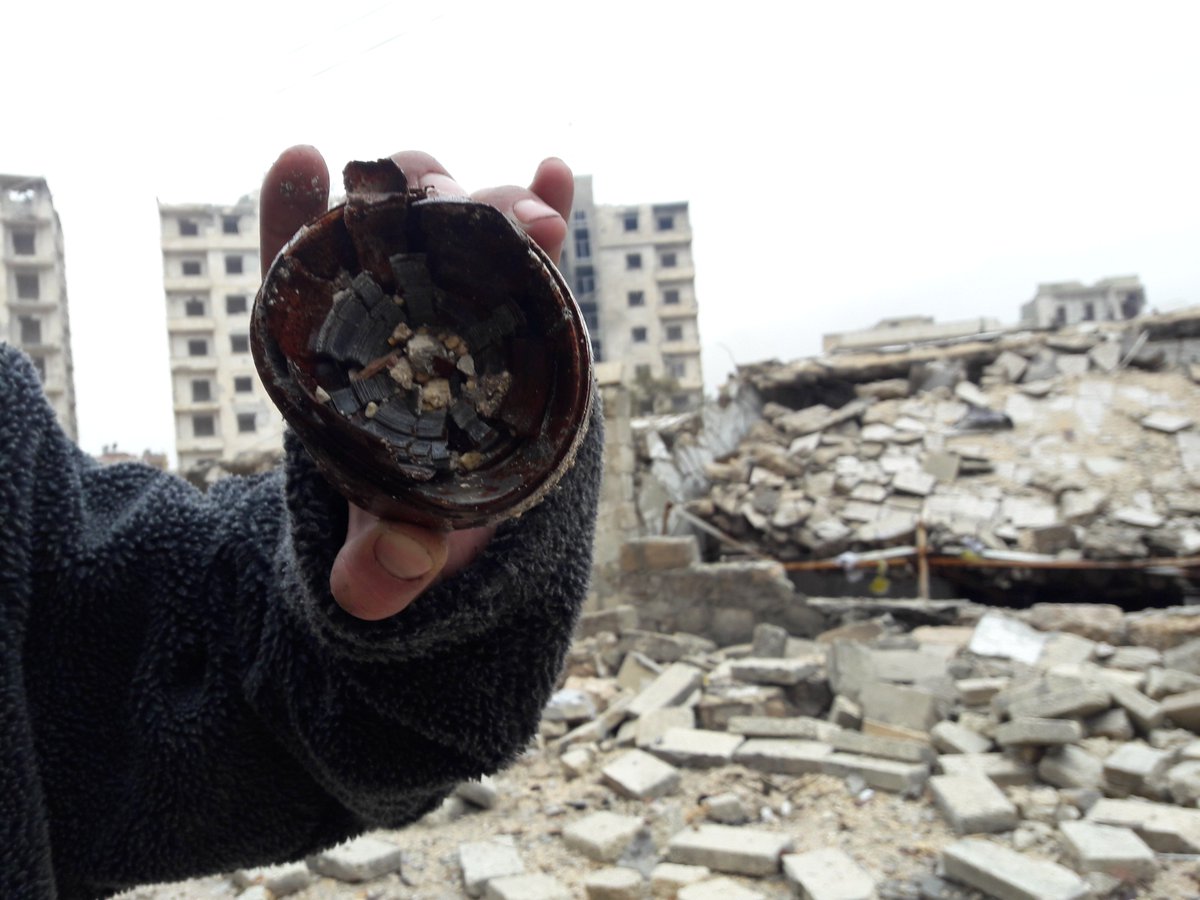 -Asaad Ashtar shot a horrifying footage today from a building's rooftop showing the extensive Assad/Russian airstrikes and bombardment targeting the besieged districts of East Aleppo.
-Activist Monther Etaky posted footage on his Twitter today reporting that Assad forces broke the ceasefire and started targeting the besieged districts of East Aleppo.
–Abd Alfattah Sheikhomar posted footage today at 2:00 P.M, on the 112th day of suffocating siege on East Aleppo, with Assad and Russian warplanes heard in the skies.
–Activist Karam Al Masri posted photos from East Aleppo today showing the bombardment and the internally displaced civilians in East Aleppo.
-Fatemah, Bana Al Abed's mother, who are still internally displaced within East Aleppo's besieged districts, posted this tweet today:
 Dear world, there's intense bombing right now. Why are you silent? Why? Why? Why? Fear is killing me & my kids. – Fatemah
-Salah Ashkar reported with his footage that since 9:00 A.M, the regime and allied forces started bombarding and shelling besieged East Aleppo again. He also tweeted:
We are in a huge risk! The aerial bombardment has not stopped please go to the streets ask your govt to put pressure on Russia to stop now.
---
December 16th, 2016:
Nearly 7,000 wounded civilians, civilians, and few rebels were allowed to leave on December 15, 2016 up until the early morning of December 16th. Despite that the first convoy that was due to leave on Wednesday morning was  targeted at by Iranian and Hezballah militias gunfire, leading to the severe injury 4 civilians, including Bebars Mesh'al (head of Syrian Civil Defense in East Aleppo), and the killing of one already wounded civilian, the forced displacement went smoothly later through the day and most civilians made it safely to Western Aleppo suburbs, amongst other areas.
(This information below was collected after listening/reading more than 4 different accounts of civilians who were in the convoy. Videos and audios will be posted with English translation below.
Today, at around 2:00 p.m. as a 25-30 vehicle convoy carrying 800 civilians was on its way out of East Aleppo along with both Red Crescent and Red Cross vehicles, it passed through a Russian checkpoint and then was stopped at a Hezbalah checkpoint. Within 30 minutes, the Hezbalah and Iranian officers demanded that all Red Cross and Red Crescent vehicles approach to the foremost front of all civilian vehicles, and a military tank was driven right in front of the Red Crescent and Red Cross car completely blocking the Ramuseh road. The armed soldiers forced all male civilians to step out of the vehicles, searched them, forced them to lie on the ground, tied their hands, forced a number of men to remove their clothes, confiscated all their valuable belongings – including cellphones and money-, and threatened with torture and execution throughout the time of detainment. 4 civilians were executed (some sources said 10 civilians), and up to 7 others were detained. After 4 hours of utter fear and dreadful times for children, women, and the detained men and after confiscating many of their cars, they were released and forced to flee back to besieged East Aleppo; the pro-regime militias opened gunfire in air and towards civilians as they were heading back to East Aleppo. Bodies of the civilians killed were taken by Iranian and Hezbalah forces.
The medical situation in East Aleppo is extremely dire. Many wounded civilians are still on streets and inside buildings lacking proper health care as most hospitals are out of service and only very few doctors and medical workers are left to help and operate on any wounded civilian or emergency case inside.
Civilians are still on the streets in East Aleppo in horrendously difficult humanitarian conditions. Temperatures are falling below 0 degrees in the city and thousands of civilians are homeless, lacking medical care, heating sources, proper nutrition, sanitation, and water supply. For the 3rd day in a row, civilians are being forced to endure the unbearable as they were given hope to evacuate and then now forced back into the besieged districts under the threat of invasion and massacres by Assad regime and its sectarian allies.
Internet has been cut off after the civilians headed back towards East Aleppo; thus, the whole area, with up to 50 thousand civilians still trapped inside, is in nearly complete media blackout with activists and civilians barely finding a connection to report their news.
The forced displacement/evacuation of civilians from East Aleppo cannot continue without international monitoring and observation, be it United Nations observers or else. There is a blatant jeopardization to the lives of civilians within East Aleppo if the evacuation process is continued without any form of protection from the atrocities of Assad, Russian, Hezbalah, and Iranian forces.
Activists reports December 16, 2016:
–Footage with English subtitles from captured-convoy civilians right after they were released from Iranian and Hezbalah militias. Gunfire could be heard in the background as civilians panicked, running towards besieged East Aleppo.
–Audio released by head of Syrian Civil Defense in Ansari area who was among those captured in the convoy. (translated below).
Peace be upon you. We left East Aleppo today, accompanied by Red Crescent and Red Cross, through Ramouseh road. We were 16 civilian cars and several ambulance cars carrying wounded civilians. While we were driving, we passed by a Russian checkpoint that allowed us all to pass. We then passed to an Iranian and Shiite checkpoint; they stopped us for nearly 3o minutes. Then, a military tank blocked the road and stood in front of the convoy. A tank was placed behind our convoy too and we were surrounded by heavily armed vehicles. Red Crescent and Red Cross were forced to drive out from within the convoy assembly and the militias started shooting in the air. They then forced all men to step out of the cars. One pregnant woman was accompanying her husband and when she saw them pulling him out of the vehicle, she started bleeding; they shot her husband and killed him and she fainted at the scene.They started yelling, telling us that "we are all terrorists", opened gunfire at us and nearly 10 were instantly killed. We all lied down on the ground. The bleeding pregnant woman was taken in a car by them. Several of us were injured and we lied on the ground for around 3 hours. They searched us, forced several of us to take off our clothes, and confiscated all our cellphones, money, and several of our vehicles. They took us to the last point under their control and left us to go back into besieged East Aleppo as they opened gunfire in the air and towards us; civilians started leaving their belongings and running for their lives into East Aleppo. Currently, I am back in East Aleppo.
-Activist Lina Al Shamy, still besieged in East Aleppo, took this footage after the evacuation stopped today. She also tweeted:
Today field executions by Iranians among the civilians from the convey who left Aleppo according to the agreement!
Iranians breaches: They detained convey of civilians, field executed number of them,demanded requests weren't even included in the agreement.
What happened today shows that Russia was unable to commit their promises.Nor to control the Iranians who breached the agreement.
-Activist Zouhir Al Shimale, who was on the captured convoy, tweeted what happened:
We were around 1000 they took us after we reached regime's areas,handcuffs us,killed 4 & told us that it's pay back.Then we came back (to East Aleppo).
Thousands waiting to be evacuated but the sectarian militants prevented us after they took all of our money and told us to go back (to East Aleppo).
Stop those foreign militants who are killing us. We were unarmed normal people! Genocides in Aleppo. Stand with Aleppo again.
After this horrible day which is the worst catastrophe day of my life…Will not leave without UN observation.
Extremely cold less than -6 here in East Aleppo where more than 50.000 still trapped & haven't left.NOT as Russia said they have evacuated us!
-Photos taken by Othman AlKhudr show few of the civilians still trapped in besieged East Aleppo:
–Footage shows one of the few paramedics left in besieged East Aleppo, speaking of the current medical and humanitarian situation inside. (translated to English below). These photos also reveal part of the agony of wounded civilians inside.
Cameraman:"Doctor, what happened?"
Doctor:"Today is 16-12-2016. Evacuation of wounded civilians has been occurring since the early morning. A number of the wounded civilians have been evacuated; there still are wounded civilians, including several in the ICU (intensive care unit), who need immediate evacuation. Just around us here are more than 30 wounded civilians who must be evacuated. We contacted the Red Crescent and Red Cross more than 2 times but the checkpoints stopped the evacuation and are prohibiting anyone, whether wounded civilians or families, from leaving East Aleppo. The patients' conditions are extremely devastating. You can see it for yourselves; God help us.
–Footage uploaded by "Thiqa agency" interviewing one of the survivors from the convoy after he was forced back into East Aleppo.
–Bilal Abdulkareem, journalist working for On Ground News, uploads footage (in English) today after the evacuation process stopped, saying more than 50 thousand civilians still trapped inside East Aleppo.
-Al Hamdu, an English teacher and activist trapped in East Aleppo, tweets today:
Hello how are you everyone. I want to thank you for your help. But I am still trapped in Aleppo. They are mocking us. We might have no hope.
It seems that the international community decided to let us to our destiny: Death.
Please from human to human: If you couldn't help keep us alive, don't forgive Russia, Assad, and Iran after our death. Let them pay the price.
-Monther Etaky, an activist still trapped in East Aleppo, wrote on his Facebook page:
We tried to reach the evacuation zone earlier but blocked by the iranians and the Russians All the families back to their homes and the situation is worse than anyone can imagine.